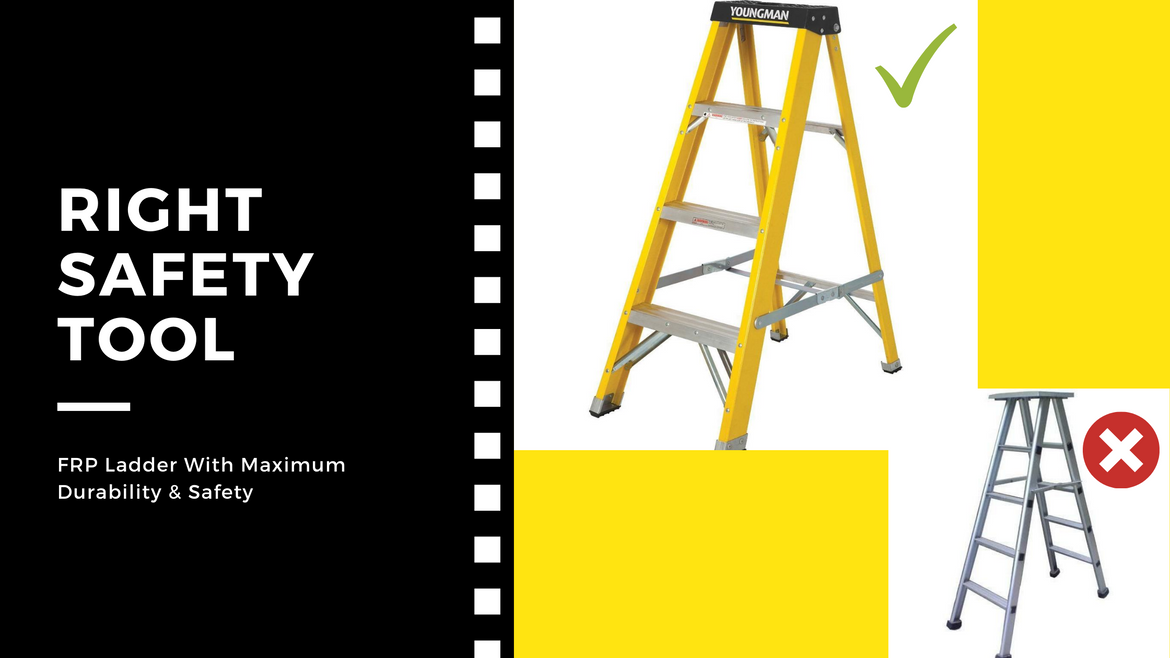 Why Choose FRP Ladder Over Aluminium Ladder?
Are you looking for the Right Ladder to help you complete the task related to height? At times or more often, we require ladders for electrical repairs or under situations where aluminium or steel ladder is not suitable. What will we do? We can't choose the Aluminium Stool Ladders or Steel Ladders commonly available in the market. We tend to select a ladder made of different material but is as strong as aluminium or steel.
So, you require a Ladder which is non-conductive and non-sparking, making it perfect for areas with a risk of electrocution or fire. An FRP Ladder is Designed for situations where aluminium or steel ladder is not suitable. Once you give 3 mins read to this article, you will know the Right Safety Tool to Meet your Work-at-Height Requirements and why FRP Ladder is considered as the Safest and the Most Durable Ladder.
Why FRP?
Fibre-reinforced plastic (FRP) (also called fibre-reinforced polymer/) is a composite material made of a polymer matrix reinforced with fibres. The fibres are usually glass (in fibreglass), carbon (in carbon fibre reinforced polymer). FRP is composed of four layers — a plywood core, woven fibreglass roving, white pigment resin, and gel coat — that are formed together under intense heat and pressure. This makes FRP a sturdier and more durable than Aluminium. The first use of glass fibre reinforced polyester composites was in the aircraft industry during the 1940s. Amongst all the available FRP Ladders in the market, Youngman FRP Ladders are exclusive. It is made up of 7 layers of Glass & Resin embedded into each other to make a strong composite with extreme mechanical properties. 
What are the Benefits of FRP Ladder?
Non-conductive for Working near Electricity.
Won't Dent, Shatter, Rust or Corrode.
Designed & Tested for Extreme Temperatures for Maximum Safety & Maximum Durability.
High Visibility Colours.
 What are the advantages of using FRP Ladder?
Features

FRP LADDERS

ALUMINIUM LADDERS

Light-Weight

Yes

Yes

Durability

Higher than Aluminium

High

Density

Low Density

Higher than FRP Ladders

Thermal Conductivity

Good Insulator

Not thermal resistant

Non-Corrosive

Not vulnerable to corrosives of any kind

Highly susceptible to corrosion from common acids

Visibility

Offers a seamless, clean, bright and smooth surface

Seams and rivets may diminish the appearance

 

Safety

Yes

Less as Compared to FRP Ladders
Is FRP Ladder available in India?
Yes, FRP ladders are manufactured by Youngman India in India and supplied across borders since 2015. Youngman is the world leader in manufacturing and supplying the best & safest tool to work-at-height since 1926. Youngman is the most reliable brand whenever you have any work related to the height; be it painting or repairing for domestic use or heavy-duty ladders required in construction sites. Use the right and best quality ladder and never compromise on Safety.